On
Monday's post
I received a comment...
princessteach
has left a new comment on your post "
one fish... two fish... green fish... quilt?
":
Congratulations, so very cute. I just made my self a skirt out of all the fabrics. I teach first grade and my kids loved the skirt. If I am wearing the skirt, then we get to study a different Dr Seuss book that day. I am going to have to make this quilt. Thanks for the inspiration.
That comment lead to a conversation...
and a photo...
and I asked
Terri
if I could share the story of her skirt with you..
and she said yes!
There are 54 (9 inch) squares, 4 tiers long. I bought $200 worth of Dr. Seuss material. I showed my love bugs, at school, the material before I made it (scraps). I told them whenever I wore my "Cat in the Hat" skirt, then we would do a different Dr. Seuss book with activities. I finished the skirt this weekend and wore it on Monday. When I walked out to get them, they started screaming and jumping up and down. It was so cute. So after we finished our regular work, I read the book and we have been doing activities for 2 days based on "Cat in the Hat". I have a small book for them to read and color today.
I bought 8 of the panels (ok maybe more), so I will have plenty for the blocks. I took one of the blocks and put it on a pillowcase and it fits on the back of a student's chair. So, whoever is "Star Helper" gets to sit in the chair for the day. I downloaded the three quilts from the internet, but they take so much material. Your quilt is perfect. I will go look for the magazine today or tomorrow. We are on year round school, so I will have the whole month of November off (when I am not in Hawaii, Vegas or Colorado, giggle) to make the quilt.
Sorry to ramble, too much coffee this morning. Thanks for the inspiration.
Hugs-
Terri
Check out
Terri's Blog
to read more about her skirt & sewing adventures!
--
Oh and these are the pattern's Terri mentioned above... Three free pattern's featuring Dr. Seuss fabrics. They are available for download from Robert Kaufman's site. Keep in mind you can scale them down or make less blocks to make them smaller.
Let's Party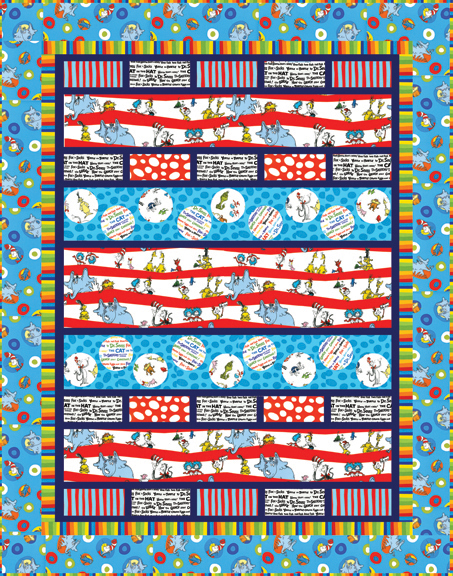 Bump Thump Panel Quilt Pattern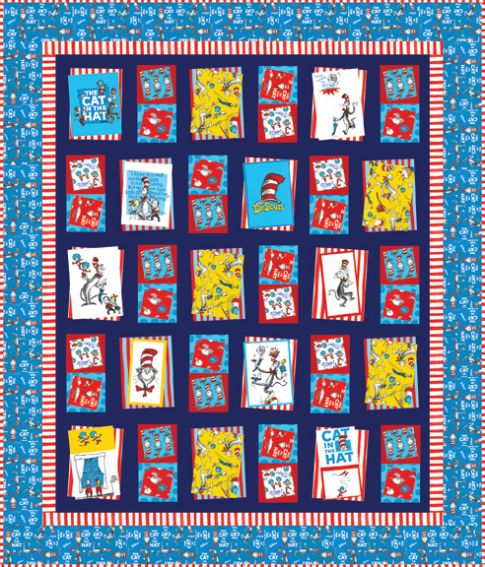 The Cat in the Hat Quilt Pattern